eNewsletter Sign-up
---
Donate
We are now able to take online donations. We truly appreciate any donation that you can offer to assist our church and ministries.

Note: If you would like to make a donation to one of our Mission Partners, please visit "Donate to Our Mission Partners" under the "Resources" tab. Thank you again for your generous support!
---
Caring for Churches, Caring for Clergy
Please find links to the
Level 1 (basic statement)
and
Level 2 (more detail)
Case Statements for our Caring for Churches, Caring for Clergy Campaign. For more information about this effort, please contact
david@pennwest.org
or
office@pennwest.org
.
UCC Disaster Ministries NewsFeed
View the UCC Disaster Ministries news feed
Facebook

---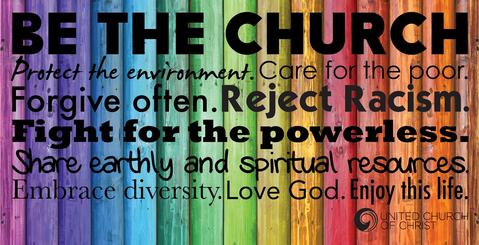 ---
Twitter
Tweets by @pwcucc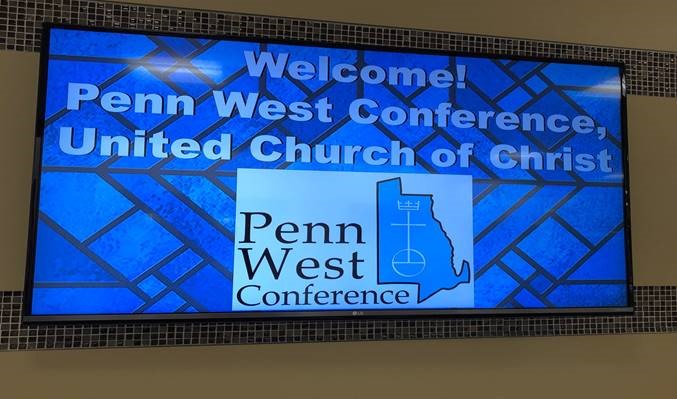 Pastoral Ethics Program, 2023
Back in 2017, all six of the Associations of the Penn West Conference passed the resolution, "On Pastoral Ethics Requirements for the Associations of the Penn West Conference of the United Church of Christ." In 2023, we are providing a boundary awareness training program on Retirement/Departure/Interim Boundaries, offered for your convenience at three separate times by Zoom. The training is open to all people (Authorized Ministers or laypeople) who want to attend and register for it.
The first two sessions will not be recorded; the third will be, and if you attend this session, it requires your consent to be recorded. All Authorized Ministers and Members in Discernment are expected to either attend one of these events, as per the resolution, or write a paper (2-4 pages) on this subject. Because we will offer a recorded session this year, another way for Authorized Ministers to satisfy the requirement will be to view (providing proof of the viewing) the March 23 recording at some point after that date and before the end of the year (preferably before October). Remember, too, that Authorized Ministers must complete and submit the Annual Informational Review form before certificates of completion will be sent to them. Our presenter this year will be the Rev. Tara Barber from our United Church of Christ Ministerial Excellence, Support, and Authorization Team." Please register for one of these event dates/timeframes below.
Tuesday, March 7, 6-9 PM
Saturday, March 18, 12:30-3:30 PM
Thursday, March 23, 6-9 PM – will be recorded, consent to record required
The cost of the event is $25.00 per person. This covers administrative fees as well as an honorarium for the presenter. If the registration fee is a hardship for you for whatever reason, please contact the Conference Minister. Please register by completing the section below and sending your payment by Wednesday, March 1, to Penn West Conference, 312 South Maple Ave., Suite PWC, Greensburg PA 15601. Checks may be made to "Penn West Conference." You may also register online by using this link: https://tithe.ly/event-registration/#/6688306. A link to the registration form is available here.
Save the Dates in 2023!
Here are some important PWC dates to put on your calendars for 2023:

The 61st Penn West Conference Annual Gathering & Meeting will be a hybrid meeting at California University of Pennsylvania on June 9-10.

The 34th General Synod of the United Church of Christ will be held in Indianapolis from June 30 – July 4.

The 2023 Pastoral Ethics programs will be held on the following dates/times: Tuesday, March 7, 6-9 PM; Saturday, March 18, 12:30-3:30 PM; and Thursday, March 23, 6-9 PM. The theme this year is "Retirement/Departure/Interim Boundaries." Our presenter this year will be the Rev. Tara Barber from the MESA (Ministerial Excellence, Support, and Authorization) Team of the United Church of Christ national setting. It is a boundary awareness training event that is open to anyone in the Conference.

The UCC Rural Identified Church Coalition is having a gathering on February 9-11 on rural church ministry titled "Nourishing the Seeds of Faith"

The four PA Conferences of the United Church of Christ are coming together from May 2-4 for a Clergy Convocation. The focus of the event will be on clergy wellness.

Information on how to attend all these events will be shared soon. Please be on the lookout for it and put the dates on your calendars!
---
Clergy Convocation 2023
The 2023 Clergy Convocation for all four Pennsylvania UCC Conferences will be held May 2-4, 2023 at the Doubletree by Hilton Hotel, 2400 Willow Street Pike, Lancaster PA 17602. This is the first year that Penn West has been invited to participate, and we are encouraging all Penn West pastors to prayerfully consider attending. The focal texts are John 17:20-23; John 15:1-5. Our time together will focus on connection—connecting with God, self and others. We will have times dedicated for worship, theological reflection, gatherings of affinity groups, connecting with folks from other Conferences and free time. Our teaching focus on clergy wellness will take shape in four 90 minute sessions, each dedicated to one of the components of wellness every pastor needs: spiritual wellness, vocational wellness, financial wellness and physical wellness. Pension Boards staff and outside facilitators will provide attendees with thoughtful and relevant content for those engaged in local church ministry. (If you desire, a Pension Boards representative will be available throughout the retreat for individual meetings to answer questions about your benefits.) Scholarships will be made available. A flier on the event with more details is available here: Clergy-Convocation-2023.pdf (psec.org). To register, please visit here: PA Clergy Convocation 2023 - Being One: Clergy Wellness, Clergy Wholeness Tickets, Tue, May 2, 2023 at 3:00 PM | Eventbrite.
---
Associate for Youth Ministry Search
Are you gifted and have experience Leading others? Are you seeking work that impacts the Spiritual lives of future generations? Does teaching children and young people about God's love for them bring you joy? Do you find it fulfilling to help other leaders grow in areas of youth ministry? If you answered yes to these questions, then this is the opportunity for you! We are seeking a qualified candidate to fulfill the role of Associate for Youth Ministry in the Penn West Conference.
A position description may be found here. The position is part-time and hours will vary; the approximate average is 10 hours per week. Salary currently offered is $629 per month, plus mileage, registration fees, and expenses for youth events. Interested applicants should send a resume, along with three letters of recommendation and, if possible at this time, clearances/certifications (PA State Police, Childline, FBI Fingerprint) to Rev. David Ackerman at david@pennwest.org. The deadline for submitting materials is Friday, April 21.
---
Prayers for our Partners in the Philippines
We give thanks to God for the partnership that Penn West Conference has with the Northwest Luzon Conference of the United Church of Christ in the Philippines. We ask that you continue to remember to support them our SHEEP Fund (Sustaining Hope for Educational Expenses in the Philippines). Gifts to the SHEEP Fund may be made electronically using the donate button on our homepage, and/or by sending a check to the Conference, with SHEEP Fund in the memo. Thank you for all the efforts you are doing to share God's love across the globe!
---
Pandemic Reflections from our Conference Minister, Rev. David Ackerman
As we continue to live into the world as it has evolved after the COVID-19 outbreak, I continue to urge people to be vaccinated and to follow the advice of the CDC, as well as PA and MD health officials. I commend churches for the steps they have taken since the pandemic began to mitigate the spread of the virus and to connect using technology. Moving forward, I urge that common sense and care be used to keep people safe from the virus, and I also pray that grace and compassion will fill our ongoing relationships with each other. As we continue to gather together via diverse means in the days to come, please continue to pray for healing and health for all.
---
"God is Still Speaking"
Welcome to the PWC Website!
Welcome to the Penn West Conference website! On this site, you will find insights, resources, materials, and links that highlight the ministries of the United Church of Christ in the Penn West Conference. We're glad that you are visiting us!
Blessings!

Rev. David Ackerman
Conference Minister
Suggested Links: