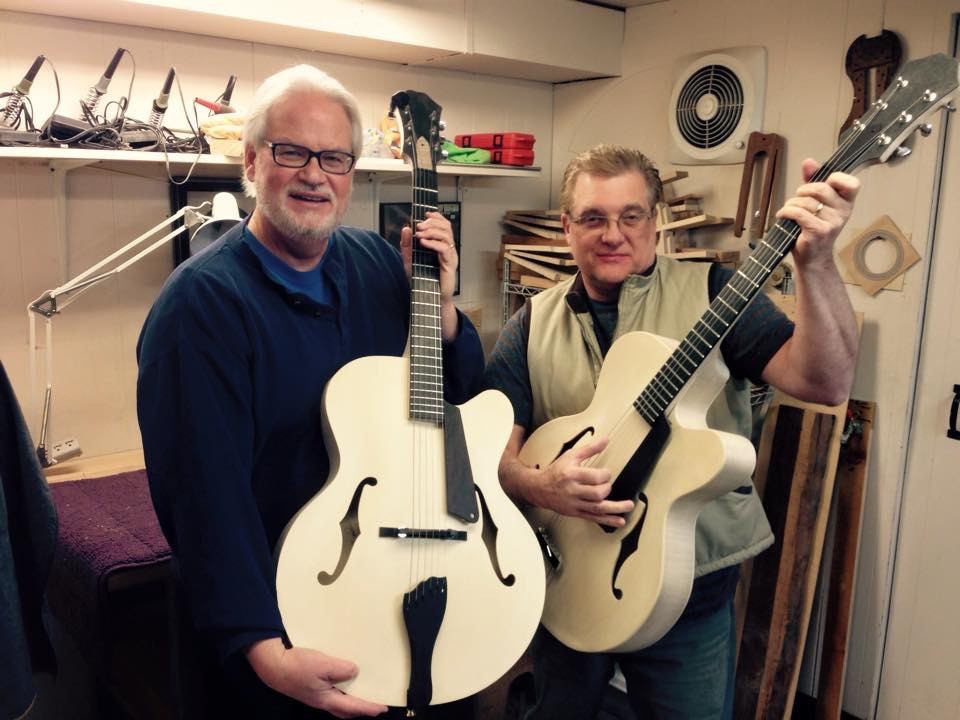 Pastors Doug Patterson and Richard Bignell building archtop guitars
at the Nazareth Guitar Institute in Nazareth PA


---
Church Vitality Event February 6-7
We are looking forward to welcoming the Rev. Graham Standish to join us for two amazing and inspiring days at Antiochian Village, 140 Church Camp Trail, Bolivar PA.  The theme of our event, which is sponsored by our Transformation and Renewal Team, is "Leading the Church to an Experience of God: Transforming Congregational Life and Worship."  The event promises to be an uplifting time for all who attend. 
Liddy Barlow to be Installed as Executive Minister of
Christian Associates of Southwest Pennsylvania
The Rev. Liddy Barlow, a United Church of Christ pastor in our Pittsburgh Association, will be officially installed as the Executive Minister of Christian Associates of Southwest Pennsylvania on Sunday, February 15, at 4:30 PM at Smithfield United Church of Christ in downtown Pittsburgh.  Christian Associates is an ecumenical group that includes 26 church bodies (Catholic, Orthodox and Protestant) representing 2,000 local congregations and 1,000,000 Christians in Allegheny, Armstrong, Beaver, Butler, Fayette, Greene, Indiana, Lawrence, Washington and Westmoreland counties.  All are welcome at the installation, and it would be really good to see a nice turnout of people from the Penn West Conference.  Mark your calendars!
New Penn West Conference Associate for Youth Ministry
Good news from our Partners in Faith Formation!  The Penn West Conference is now receiving applications for an Associate for Youth Ministry.  A job description for the position may be obtained by contacting David Ackerman at the Penn West Conference Office by phone (724-834-0344), email (david@pennwest.org), or mail at 320 South Maple Avenue, Greensburg Pa 15601.  The completed application packet will include:
· Application form
· Resume
· Either copies of all relevant PA state clearances or proof that all clearances have been applied for
· Three letters of reference, which include letters from your Pastor/Consistory, someone from your congregation (not a relative) and someone from your community (not a relative)
Applications can be emailed to david@pennwest.org or mailed to the Penn West Conference Office, Attention: David Ackerman, 320 South Maple Avenue, Greensburg PA 15601.  The deadline for us to receive application packets is March 9, 2015.
One of our immediate hopes for our Associate for Youth Ministry is to coordinate our participation in The National Youth Event of the United Church of Christ, which will be held July 26-29, 2016, at Disneyworld in Orlando FL.  Please mark your calendars and look/listen for more information about this amazing event in the future.
Hold the Dates!
· Congregational Vitality Event with the Rev. Graham Standish, sponsored by our Transformation and Renewal Team, February 6-7, 2015, at Antiochian Village in Bolivar. 
· "Beyond Sunday Morning", All-Association Gathering on emergency preparedness for local churches, on Saturday, April 18, at St. John's UCC in Evans City. 
· Penn West Conference Annual Meeting May 29-30 at the University of Pittsburgh at Johnstown.
· United Church of Christ General Synod June 26-30 in Cleveland.
· National Youth Event July 26-29, 2016 in Disneyworld.
---
"God is Still Speaking"
Welcome to the PWC Website!
The Penn West Conference website is a platform for sharing the mutual ministries and missions (that our churches and members carry forward) of God. Members and visitors will find insights and resources, documents and materials, our resource center and catalog, Ministry Teams, links to local PWC church websites, and more. We are linked to the national site as well as other important ministry sites. As we move forward, we will have Annual Meeting information and registration online.

Combined with the periodic PWC eNewsletter (for current information and updates), churches and members will have greater access than ever before. Moving to electronic media is a challenge for the reader and for the originator. We will learn together how we can become collaborators in God's Ministry and in God's Message. Join in this by sending in articles about your church life and all the emails of members in your church.
Blessings!

Rev. David Ackerman
Conference Minister
Suggested Links: