eNewsletter Sign-up
---
Donate
We are now able to take online donations. We truly appreciate any donation that you can offer to assist our church and ministries.
---
Case Statements
Please find links to the
Level 1 (basic statement)
and
Level 2 (more detail)
Case Statements for our Caring for Churches, Caring for Clergy Campaign. For more information about this effort, please contact
david@pennwest.org
or
office@pennwest.org
.
UCC Disaster Ministries NewsFeed
View the UCC Disaster Ministries news feed
Facebook

---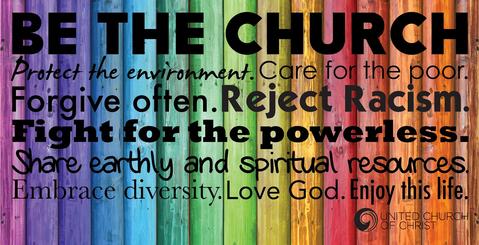 ---
Twitter
Tweets by @pwcucc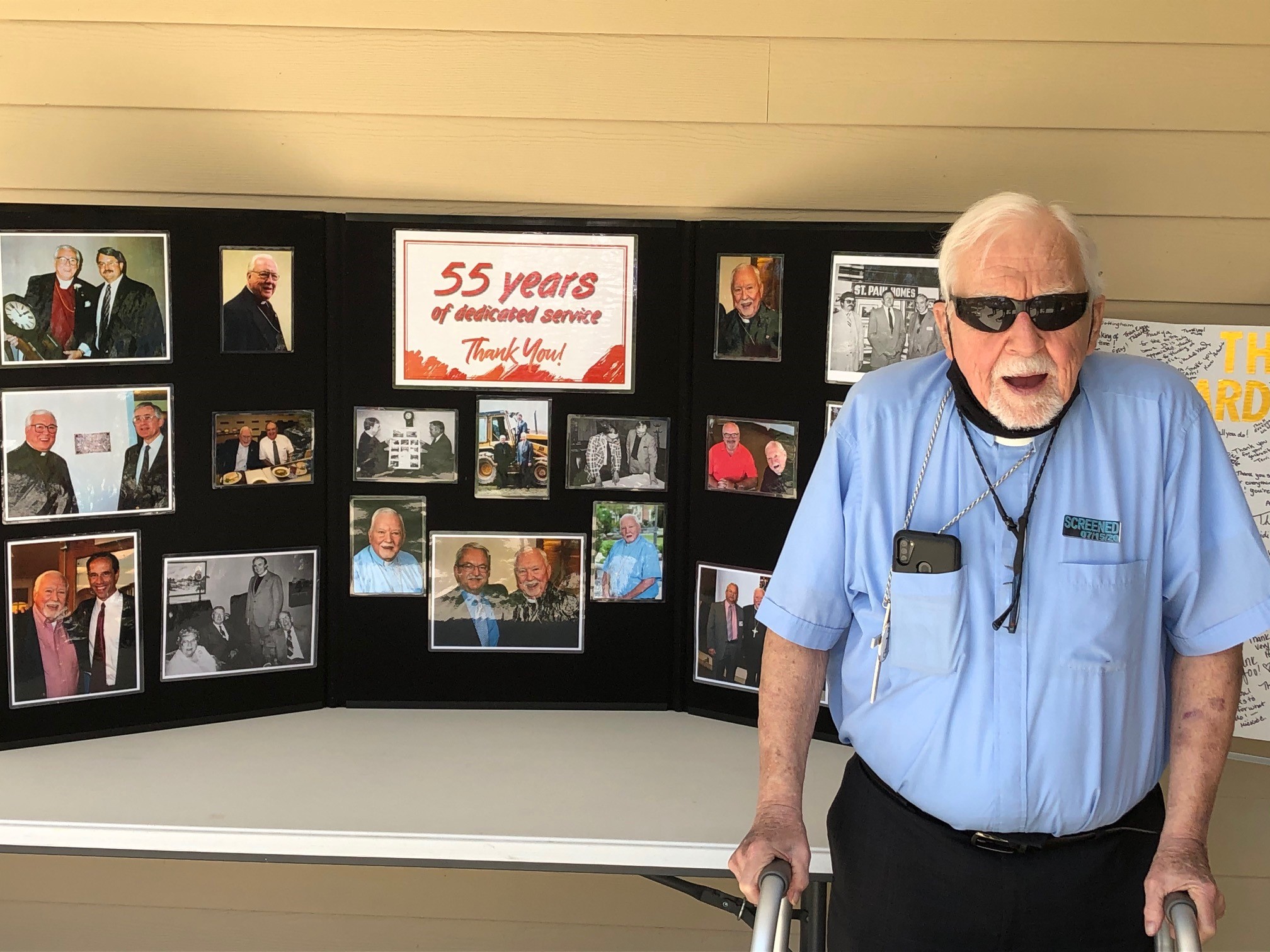 The Rev. Dr. Paul Westcoat celebrates 55 years on the Board of Directors at St. Paul's Continuing Care Community in 2020
Coronavirus Updates
During the course of the COVID-19 pandemic, we released a series of videos in 2020 on mitigation protocols during the pandemic. The first video was released on March 16, the second on May 3, and the third on May 25. In the third video, our Conference Minister shared his thoughts on interpreting the PA phases and MD stages. Here also are some additional links to helpful resources in our fight against the virus:
Please be on the lookout for updates on information about the virus and vaccines as they become available in our e-newsletters and snippets. Please sign up for these by using the "e-newsletter sign-up" box in the upper right hand section of this page. Here in the Penn West Conference, we know that this has been a challenging time in so many ways, and we are very thankful for the leadership that so many of our pastors and churches have shown during it. Grace and peace be with all of you.
Abolishing Medical Debt
The Penn West Conference is going to engage in a campaign from February 1, 2021, through April 30, 2021, to help abolish medical debt for people in the area of the Conference! Imagine feeling the stress and anxiety of wondering how you are going to pay your medical bills and one day receiving a card saying, "You may not know us and you may never have been to one of our churches, but we are the United Church of Christ in the Penn West Conference, and we are writing to tell you that your medical debt has been forgiven." This kind of thing has been going on in various areas across the country, as the United Church of Christ has partnered with
RIP
to help to eliminate medical debt in
Chicago
,
St. Louis
and
northern California
. In order to begin to do this work with RIP, we need to raise a minimum of $15,000.00 toward this effort. If each local church in the Conference contributed $250.00, we would exceed that minimum. And any money that is over the minimum will help to relieve more debt. Please talk with your church leadership bodies about this now so that you can plan accordingly to embrace this opportunity to participate in this effort this spring.
More details about this effort may be found here
. Also, here is a video from our Conference Minister about the Abolishing Medical Debt campaign:
Watch Medical Debt Video
. Thanks again for supporting this ministry that will make such a difference in the lives of so many people who need relief from medical debt within the geographic area of the Penn West Conference!
OCWM Thank You Day
On Sunday, May 16, our Financial Stewards are promoting an OCWM Thank You Day! Because of the pandemic, we are not having OCWM "Thank You" Visitors this year, but we want to name a day to thank our churches for their generous gifts to Basic Support of Our Church's Wider Mission. Your gifts to Basic Support of Our Church's Wider Mission make such a difference throughout the geographic area of the Conference and beyond. A video from the Conference Minister offering a word of thanks is now available here: https://youtu.be/Y9gBKIx1Lz0. We're hoping this may be shared widely in services of celebration throughout the Conference. Please save the date, and thanks to all of you for your amazing support of this ministry!
Substance Abuse: Addiction and Recovery
Our "Pastoral Ethics Training" this year is a continuing education event focused on the theme "Substance Abuse: Addiction and Recovery." It satisfies the Pastoral Ethics requirements for Authorized Ministers in 2021 and is open to Authorized Ministers and laypersons alike. We hope you will join us!
The training will be led by Ron Pedersen, with assistance from the West Virginia Institute for Spirituality and the national setting of the United Church of Christ. The event is scheduled to be a maximum of three hours. A tentative schedule is as follows:
Opening - A summary of a personal experience in addiction and the recovery process (about 20 mins.)
Part One - Recognizing addiction and addictive Behavior in others and in self (about 40 mins.)
Part Two - Response to addiction suspicions: guidelines, resources, and boundaries against enabling addicts (40 mins.)
Part Three - Treatment and resources (15 mins.)
Part Four - Social reaction to addiction: society/church/health care system (15 mins.)
Part Five - Spirituality, addiction, and twelve step programs (remaining time)
For the convenience of our pastors and churches, three separate events have been planned. Please register for just one of these.
Wednesday, March 3, 9 AM to noon.
Saturday, April 10, 9 AM to noon.
Monday, May 10, 6-9 PM.
The cost of the event is $25.00 per person. This covers the fees and expenses for the presenters. There will also be ways in which you will learn about how to support the national setting in its work combatting substance abuse. If the registration fee is a hardship for you for whatever reason, please contact the Conference Minister. Please register and send your payment by Friday, February 26, to Penn West Conference, 312 South Maple Ave., Suite PWC, Greensburg PA 15601. Checks may be made to "Penn West Conference."

For a registration form, click here.

To register and pay for the event online, please click here.
---
Annual Gathering & Meeting
Our 59th Penn West Conference Annual Gathering & Meeting will again be a virtual event this year. It will be held on Saturday, June 12, beginning at 9 AM, with a scheduled ending at noon. On the evening of Friday, June 11, there will be time for a technology test as well as a discussion about the budget. We will also plan to have workshops on the evening of Friday, June 4, and the morning of Saturday, June 5. Our theme this year will again be "Imagining the Future," and our focus scripture will be Jeremiah 29:1-14. Our keynote speaker will be the Rev. Dr. John C. Dorhauer, General Minister and President of the United Church of Christ. Members of our Somerset Association will be leading our opening devotions, and members of the Clarion Association will lead our closing worship. Our featured Mission Partners will be Christian Associates of Southwest Pennsylvania (www.casp.org) and St. Paul's Senior Living Community (https://www.stpauls1867.org/). Registration online may be done here or you may find a registration form here. We look forward to seeing you there by Zoom!
---
General Synod 33
The Thirty-Third General Synod of the United Church of Christ will be held virtually this year. There will be pre-Synod events from July 7-10 and General Synod itself will be held from July 11-18. This year's theme is "Rooted in Love" and the focus scriptures is Psalm 1:3a. Here is the page to visit for more details on it: http://www.generalsynod.org/. Please pray for our delegation and for all who will be attending General Synod 33 this year.
---
Survey on Disabilities Awareness
Our Justice & Witness Team is taking a survey on how our Local Churches are responding in a spirit of hospitality to people with disabilities. Please complete the survey, which is in a fillable PDF, and return it to our office (either at office@pennwest.org or by mailing it to us at 312 S. Maple Ave., Suite PWC, Greensburg PA 15601) by May 31. The survey may be found here.
---
Prayers for our Partners in the Philippines
The ambassador trip that we had scheduled for May 2020 was cancelled due to the coronavirus pandemic. We hope to reschedule it for some future date. Meanwhile, we ask that you would continue to remember to support our SHEEP Fund (Sustaining Hope for Educational Expenses in the Philippines) during this time. Gifts to the SHEEP Fund may be made electronically using the donate button on our homepage, and/or by sending a check to the Conference, with SHEEP Fund in the memo. Thank you for all the efforts you are doing to share God's love across the globe!
---
"God is Still Speaking"
Welcome to the PWC Website!
Welcome to the Penn West Conference website! On this site, you will find insights, resources, materials, and links that highlight the ministries of the United Church of Christ in the Penn West Conference. We're glad that you are visiting us!
Blessings!

Rev. David Ackerman
Conference Minister
Suggested Links: