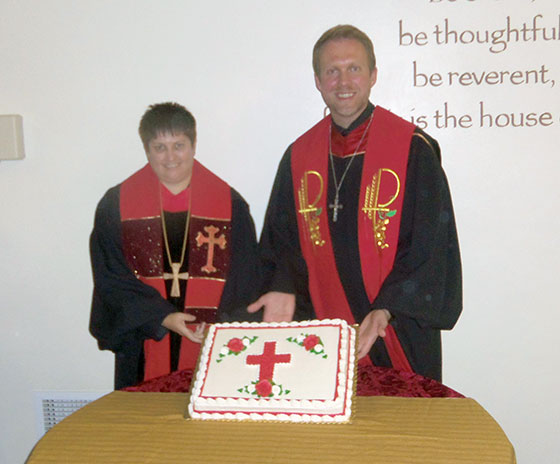 Revs. Jodi Shay & Rich McCarty at their installation as pastors of Community United Church in Erie


General Synod 30 Plans Are Under Way
The thirtieth General Synod of the United Church of Christ will be held June 26 through 30, 2015, in Cleveland, Ohio.  Speakers include the Rev. Molly Baskette, Dr. Mitri Raheb, Bishop Dwayne Royster, and Dr. Sharon Watkins.  Our delegates have recently been contacted for registration details.  We are excited about having General Synod so near to us!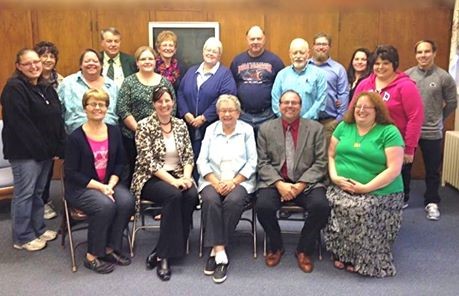 Penn West Academy


Fall Association Meetings
Here's a revised list of our Association Fall Meetings:
· Clarion Association on October 26 at St. Luke's, Luthersburg.  Registration begins at 2:30 PM
· Juniata Association on October 19 at Salem, Martinsburg.  Beginning at 2 PM.
· Lake Erie Association: Postponed for the time being
· Pittsburgh Association on November 2 at Community of Reconciliation, Pittsburgh.  Lunch will be served at 12:30 PM.  Prayers will be held at 1:45 PM and the meeting begins at 2 PM.
· Somerset Association on November 9 at St. John's, Salisbury.  Beginning at 2 PM.
· Westmoreland Association on November 2 at Emmanuel Reformed (Hill's), Export.  Registration begins at 2:30 PM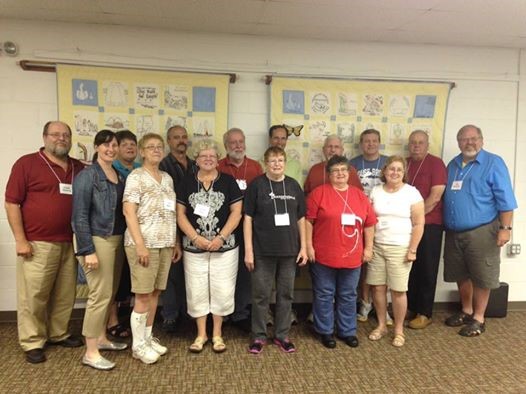 Penn West Conference Board of Directors


Conference Minister's Installation Service
The Rev. David Ackerman will be installed as our new Conference Minister in a service of worship to be held on Sunday, November 16, at 4 PM at First Reformed UCC, 312 South Maple Ave., Greensburg PA 15601.  Clergy are invited to robe and wear red stoles.  A dinner reception will follow in the social hall.  Please RSVP by November 2 to Diane at the Conference Office at 724-834-0344 or at office@pennwest.org or on the Conference Facebook page.  An error was made on the phone number on the printed invitations; it is listed correctly here.
Pastor's Retreat
Please remember that our Pastor's Retreat this year will be held from noon on September 30 through lunchtime on October 1 at Living Waters.  Registration forms were mailed last month.  Our retreat leader is Dr. Leanna K. Fuller, Assistant Professor of Pastoral Care at Pittsburgh Theological Seminary.  The theme of the time is, "Coping with Conflict in Congregations:  Problems and Possibilities."  This should be an important time together for all our pastors. 
Living Waters Fall Work Day
Living Waters Camp and Conference Center is having a Fall Work Day on Saturday, September 27, beginning at 9 AM.  RSVP to lvngwtrs@embarqmail.com or 814-733-4212.  Projects to be completed include:
· Splitting wood
· Clearing grounds of debris
· Cleaning buildings (inside & out)
· Road Clean-up
· Spreading mulch on trails
· Trimming trees
Materials needed for the day include:
· Chainsaws
· Loppers/pruners
· Small trailers
· Small front end loader
For more details, see the Living Waters website at www.livingwaterscamp.org.
Hold the Dates!
· Congregational Vitality Event with the Rev. Graham Standish, sponsored by our Transformation and Renewal Team, February 6-7, 2015, at Antiochian Village in Bolivar. 
· "Beyond Sunday Morning", All-Association Gathering on emergency preparedness for local churches, on Saturday, April 18, at St. John's UCC in Evans City. 
· Penn West Conference Annual Meeting May 29-30 at the University of Pittsburgh at Johnstown.
---
"God is Still Speaking"
Welcome to the PWC Website!
The Penn West Conference website is a platform for sharing the mutual ministries and missions (that our churches and members carry forward) of God. Members and visitors will find insights and resources, documents and materials, our resource center and catalog, Ministry Teams, links to local PWC church websites, and more. We are linked to the national site as well as other important ministry sites. As we move forward, we will have Annual Meeting information and registration online.

Combined with the periodic PWC eNewsletter (for current information and updates), churches and members will have greater access than ever before. Moving to electronic media is a challenge for the reader and for the originator. We will learn together how we can become collaborators in God's Ministry and in God's Message. Join in this by sending in articles about your church life and all the emails of members in your church.
Blessings!

Rev. David Ackerman
Conference Minister
Suggested Links: