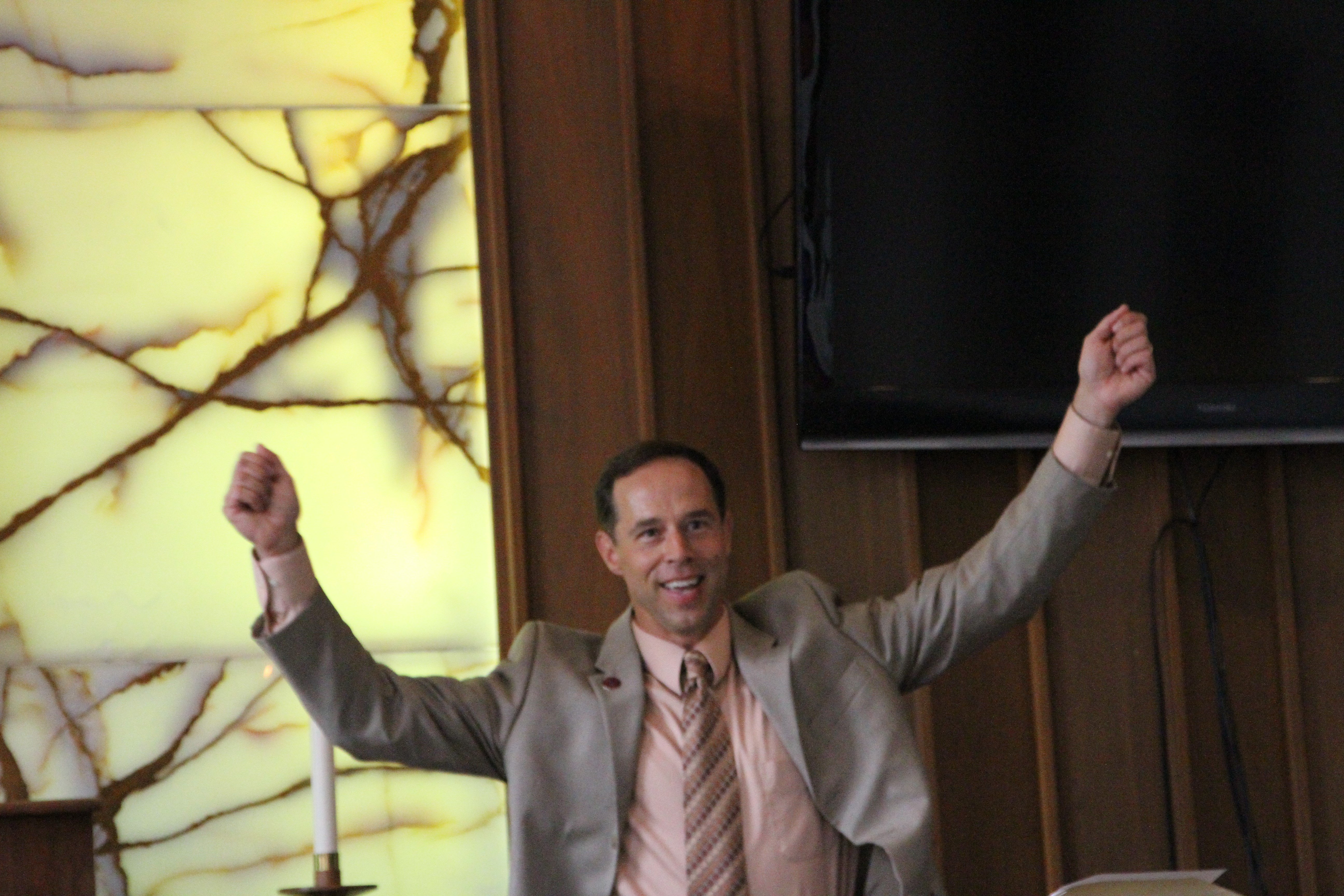 At the Mission Grants Award Ceremony


Mission Grants Awarded
On Tuesday, July 28, game show host wannabe David Ackerman hosted a Mission Grants Awards Celebration in the chapel at First Reformed United Church of Christ in Greensburg. Thirteen congregations in the Penn West Conference received over $29,000 worth of grant monies! The grants did not come through OCWM Basic Support, but rather from interest from the Frank E. Clark trust, the Corman trust (along with some additional Neighbors in Need Funds), and the Kermit B. Thomas trust. The Mission Grants Committee has been very intentional about ensuring that it honors the wishes of our donors, and the grants that were given serve to glorify God in so many ways. The grant categories include: connecting churches through technology, supporting field education service, offering additional support to pastors, helping to alleviate human need/suffering in communities, and assisting with worthwhile projects of local congregations. Grants were given to the following United Church of Christ congregations: Community of Reconciliation in Oakland, First Reformed in Greensburg, Trinity in Greensburg, Zion's in Transfer, St. Mark's in Fredonia, St. Paul's in Stoystown, Grace in Duquense, Trinity in Dorseyville, Denmark Manor in Export, Christ in Latrobe, Amity in Meyersdale, Friends Cove in Bedford, and St. Paul's in Chicora. Congratulations to all our Mission Grant Award recipients!
---
The United Church of Christ
National Youth Event 2016
BELIEVE!
The countdown is on, we are 1 year away from the 2016 NYE in Walt Disney World Florida! July 26th-30th at the Coronado Springs Resort. Click here for the brochure
---
2015 Women's Retreat
Details are now available for our 2015 Women's Retreat - September 19 & 20 in Schellsburg, PA. Click here for the brochure
New Associate for Youth Ministry
Our new Penn West Conference Associate for Youth Ministry is Ms. Valarie Poole, a Member in Discernment in the Westmoreland Association. Valarie serves as the Director of Christian Education and Program Coordinator at First Reformed United Church of Christ in Greensburg and is a fourth year student in the Penn West Academy for Ministry. The Board of Directors unanimously approved her for the position in a vote on April 25, and Valarie will begin serving in the Conference starting May 1.
Valarie says, "I have a passion for working with youth and believe that they are not just the future, but more importantly, the present! In today's society the youth need all the positive influences they can get, and I believe that offering programs conference wide will aid our local churches in reaching their youth and providing an encouraging and safe environment to explore their faith." Valarie is married to Mark Poole, a tax accountant with PNC. They have two children, Morgan and Braden. Welcome aboard, Valarie!
---
New Bookstore
Our Partners in Faith Formation are excited to announce that we are in the process of establishing a new bookstore! We are hoping to have it open sometime later this year at First Reformed UCC, home of the new Penn West Conference Office. The store will be a year-round resource for our congregations and members. The bookstore will be a continuation and expansion of what our Partners in Faith Formation offer at our Conference Annual Meeting.
As an important note to this, for both the Annual Meeting bookstore and for the new bookstore, we are required to charge sales tax on transactions unless both of the following conditions are met: 1) A sales tax exemption form for the church or non-profit organization is presented AND 2) The transaction is paid with a church check or church credit/debit card. All items sold at the Partners in Faith Formation Bookstore are taxable except clothing items.
We look forward to being of service to you in the future!
---
"God is Still Speaking"
Welcome to the PWC Website!
The Penn West Conference website is a platform for sharing the mutual ministries and missions (that our churches and members carry forward) of God. Members and visitors will find insights and resources, documents and materials, our resource center and catalog, Ministry Teams, links to local PWC church websites, and more. We are linked to the national site as well as other important ministry sites. As we move forward, we will have Annual Meeting information and registration online.

Combined with the periodic PWC eNewsletter (for current information and updates), churches and members will have greater access than ever before. Moving to electronic media is a challenge for the reader and for the originator. We will learn together how we can become collaborators in God's Ministry and in God's Message. Join in this by sending in articles about your church life and all the emails of members in your church.
Blessings!

Rev. David Ackerman
Conference Minister
Suggested Links: