eNewsletter Sign-up
---
Donate
We are now able to take online donations. We truly appreciate any donation that you can offer to assist our church and ministries.
---
Case Statements
Please find links to the
Level 1 (basic statement)
and
Level 2 (more detail)
Case Statements for our Caring for Churches, Caring for Clergy Campaign. For more information about this effort, please contact
david@pennwest.org
or
office@pennwest.org
.
UCC Disaster Ministries NewsFeed
View the UCC Disaster Ministries news feed
Facebook

---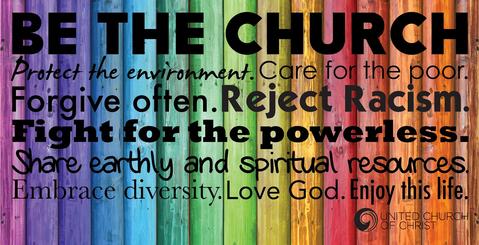 ---
Twitter
Tweets by @pwcucc

Pandemic Reflections Video
Pandemic Reflections
Here is a video that our Conference Minister, the Rev. David Ackerman, is providing for our Conference Annual Gathering & Meeting on June 12, 2021. In this video, Rev. Ackerman urges people to be vaccinated and to follow the advice of the CDC, as well as PA and MD health officials, in ongoing efforts to keep people safe. He commends churches for the steps they have taken over the past year (plus) to mitigate the spread of the virus and to connect using technology. Moving forward, he urges common sense and care in our continued struggle against the virus and grace and compassion in our ongoing relationships with each other. As we continue to gather together via diverse means in the days ahead, he notes that parts of our world still suffer greatly, and he prays for healing and health for all.
---
Annual Gathering & Meeting
Our 59th Penn West Conference Annual Gathering & Meeting will again be a virtual event this year. It will be held on Saturday, June 12, beginning at 9 AM, with a scheduled ending at noon. On the evening of Friday, June 11, there will be time for a technology test as well as a discussion about the budget. We will also plan to have workshops on the evening of Friday, June 4, and the morning of Saturday, June 5. Our theme this year will again be "Imagining the Future," and our focus scripture will be Jeremiah 29:1-14. Our keynote speaker will be the Rev. Dr. John C. Dorhauer, General Minister and President of the United Church of Christ. Members of our Somerset Association will be leading our opening devotions, and members of the Clarion Association will lead our closing worship. Our featured Mission Partners will be Christian Associates of Southwest Pennsylvania (www.casp.org) and St. Paul's Senior Living Community (https://www.stpauls1867.org/). Registration online may be done here or you may find a registration form here. We look forward to seeing you there by Zoom!
---
General Synod 33
The Thirty-Third General Synod of the United Church of Christ will be held virtually this year. There will be pre-Synod events from July 7-10 and General Synod itself will be held from July 11-18. This year's theme is "Rooted in Love" and the focus scriptures is Psalm 1:3a. Here is the page to visit for more details on it: http://www.generalsynod.org/. Please pray for our delegation and for all who will be attending General Synod 33 this year.
---
Survey on Disabilities Awareness
Our Justice & Witness Team is taking a survey on how our Local Churches are responding in a spirit of hospitality to people with disabilities. Please complete the survey, which is in a fillable PDF, and return it to our office (either at office@pennwest.org or by mailing it to us at 312 S. Maple Ave., Suite PWC, Greensburg PA 15601) by May 31. The survey may be found here.
---
Missionary Andrew Larson to speak on the United Church of Christ in the Philippines
On Wednesday, June 2, from 6:30-8:00 PM the Penn West Conference is pleased to host a Zoom meeting with Andrew Larsen, who serves through Global Ministries with the United Church of Christ in the Philippines. Andrew's appointment is made possible by gifts to Our Church's Wider Mission and our special gifts. The event is free, but we ask that you register for it using the registration form here. Please join us!
---
Prayers for our Partners in the Philippines
The ambassador trip that we had scheduled for May 2020 was cancelled due to the coronavirus pandemic. We hope to reschedule it for some future date. Meanwhile, we ask that you would continue to remember to support our SHEEP Fund (Sustaining Hope for Educational Expenses in the Philippines) during this time. Gifts to the SHEEP Fund may be made electronically using the donate button on our homepage, and/or by sending a check to the Conference, with SHEEP Fund in the memo. Thank you for all the efforts you are doing to share God's love across the globe!
---
"God is Still Speaking"
Welcome to the PWC Website!
Welcome to the Penn West Conference website! On this site, you will find insights, resources, materials, and links that highlight the ministries of the United Church of Christ in the Penn West Conference. We're glad that you are visiting us!
Blessings!

Rev. David Ackerman
Conference Minister
Suggested Links: