Facebook

---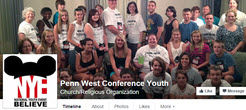 ---
Twitter
Tweets by @pwcucc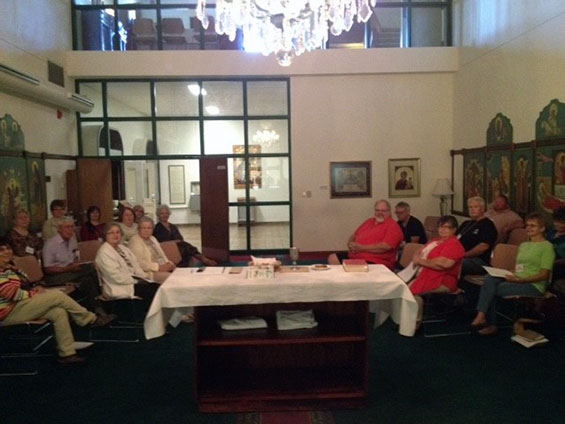 At the Penn West Conference Pastors' Retreat at Antiochian Village in Bolivar, PA
---
Missionary to Visit Penn West Conference in October
We rejoice to welcome Judy Chan, a Global Ministries Missionary to Hong Kong, to Penn West Conference from October 1-18. Click here for her website. Tentatively, this is her schedule:
October 1: Arriving in Pittsburgh. Overnight in Pittsburgh
October 2: Preaching at First UCC, Millvale
October3-5: Staying in Pittsburgh
October 6: Traveling to Greenville, staying at St. Paul's CCRC in Greenville
October 7: Traveling to Greensburg
October 8: Teaching at Penn West Academy in Greensburg; traveling to Chicora
October 9: Preaching at St. Paul's Community Church, Chicora
October 10: Staying in Chicora
October 11: Traveling to Altoona; presenting at Altoona Ministerium; visiting Homewood
October 12-16: Staying in Juniata Association/Homewood
October 17: Traveling to Pittsburgh
October 18: Flying out of Pittsburgh
Judy has some amazing stories to share: on her website. You won't want to miss out on this opportunity to welcome her!
Important Dates
There are a number of important upcoming dates that you will want to have on your calendar for 2016-2017. Here are some!
Fall Association Meetings:
Somerset Association: October 9, Registration 2:30 PM, Meeting 3:00 PM @ St. Paul's in Somerset

Juniata Association: No meeting

Westmoreland Association: October 30, Registration 2:30 PM, Meeting 3:00 PM @ St. Paul's in Trauger

Clarion Association: October 30, Registration 2:30 PM, Meeting 3:00 PM @ St. Peter's in Punxsutawney; Association Mission Project is St. Peter's "Clean & Gleam" program; all are invited to bring in donations of products or money

Pittsburgh Association: November 13, Registration 12:30 PM, Meeting 1:00 PM @ The Neighborhood Academy in Pittsburgh

Lake Erie Association: No meeting

The All Association Spring Meeting this year will be themed: "What Does God Require of You?" It is a Justice and Witness themed meeting. We will gather at St. John's United Church of Christ in Larimer (Westmoreland Association) on Saturday, March 18, 2017. More details will be out later. Save the date!
The Penn West Conference Annual Gathering and Meeting will be held on June 9-10, 2017, at California University of Pennsylvania. More details will be out later. Save the dates!
The Thirty-First General Synod of the United Church of Christ will be held from June 30 – July 4, 2017 in Baltimore, Maryland. Save the dates!
Mission Grants
Our Mission Grants awards will be announced in early October, and a celebration of the awards is currently being planned for Tuesday, November 1, at 11 AM in the chapel of First Reformed United Church of Christ in Greensburg. Notifications to churches that received grants will be sent in early October. If everything goes according to plan, we hope that in 2016, we will be able to give away more than $30,000.00 to our local churches. This is certainly something worth celebrating! While not every church that applied received an award, we thank every church that applied and encourage all our churches to apply again next year. Thanks to our Mission Grants Committee for all their hard work in this process!
Penn West Academy Update
The Penn West Academy for Ministry has kicked off the academic year with much excitement and enthusiasm! There is a refresher course for Academy students and Licensed and Commissioned Ministers that will be held at Living Waters Camp & Conference Center, beginning on November 18 at 7 PM and ending on November 19 at 3 PM. The theme this year is, "Drawing a Spiritual Roadmap for a New Religious Landscape" and the presenter is the Rev. Jeffrey Nelson, pastor of Grace United Church of Christ in Uniontown OH. The deadline to register is November 11. Registration forms are available by clicking on the link.
If you believe that God may be calling you to Licensed or Commissioned Ministry, or if you would like to deepen your knowledge about the Bible and Christian life, perhaps the Penn West Academy for Ministry is for you! Contact Dean Joseph Hedden here.
Bookstore
Our Partners in Faith Formation are pleased to host our Penn West Conference Bookstore at First Reformed United Church of Christ, 312 South Maple Avenue, Greensburg PA. The store is a year-round resource for our congregations and members. It is a continuation and expansion of what our Partners in Faith Formation offer at our Conference Annual Gathering & Meeting. We hope to be of service to you!
---
"God is Still Speaking"
Welcome to the PWC Website!
Welcome to the Penn West Conference website! On this site, you will find insights, resources, materials, and links that highlight the ministries of the United Church of Christ in the Penn West Conference. We're glad that you are visiting us!
Blessings!

Rev. David Ackerman
Conference Minister
Suggested Links: