Penn West Conference elects a new Conference Minister!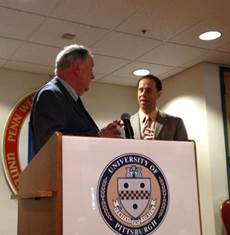 The delegates at the recent Conference Annual Meeting elected the Rev. David Ackerman to be the new Conference Minster.
Rev. Ackerman, who currently serves as pastor at St. Paul's UCC (Trauger) in Pleasant Unity, PA will conclude his ministry with St. Paul's the end of June.  July will be a time for vacation and moving into a new house.  He will begin as the Conference Minister on August 1.
Congratulations to Rev. Ackerman and to the Penn West Conference!
Additional Annual Meeting Highlights
It was a wonderful, spirited meeting!  The Annual Meeting was blessed by the presence of the Rev. Ben Guess, Executive Minister for Local Church Covenanted Ministries.  Ms. Melissa McLean and Rev. Joseph Hedden shared some experiences from their visit to the Northwest Luzon Conference of the United Church of Christ in the Philippines.  There were 15 workshops for participants to enjoy and a Friday evening of PWC Follies – music, talent, celebrations of anniversaries and laughter which ended in an ice cream social.  Those present were challenged to help meet the approved 2015 budget, recognizing the exciting things that are happening in the Conference.
"In flight" to the Philippines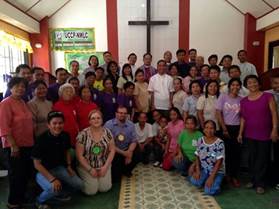 Thank you for helping us reach the goal of sending Rev. Joseph Hedden and Ms. Melissa McLean to the Northwest Luzon Conference of the United Church on the Philippines!  They have returned with many stories to share and are available to speak to Associations and churches.  See the Global Mission page for more pictures.
Plan Ahead –
· Enroll in the Penn West Academy.  Classes begin September 12
· Pastors Retreat September 30-October 1 – Living Waters Camp and Conference Center
---
Penn West Academy seeks new Dean and Faculty Person
The Penn West Academy for Ministry is seeking a new Dean and also an Instructor for Worship and Preaching.  The Academy is a four-year education program for those interested in serving as licensed ministers or seeking further personal growth.  Anyone interested in either of these positions, should send their resume and application form to Char Burch (char@pennwest.org).  Deadline for applications is June 27.
Information for Download:
Position Description – Dean of the Academy
Position Description – Instructor for Worship and Preaching
Current Catalog of the Penn West Academy
---
"God is Still Speaking"
Welcome to the PWC Website!
The Penn West Conference website is a platform for sharing the mutual ministries and missions (that our churches and members carry forward) of God. Members and visitors will find insights and resources, documents and materials, our resource center and catalog, Ministry Teams, links to local PWC church websites, and more. We are linked to the national site as well as other important ministry sites. As we move forward, we will have Annual Meeting information and registration online.

Combined with the periodic PWC eNewsletter (for current information and updates), churches and members will have greater access than ever before. Moving to electronic media is a challenge for the reader and for the originator. We will learn together how we can become collaborators in God's Ministry and in God's Message. Join in this by sending in articles about your church life and all the emails of members in your church.
Blessings!

Rev. Char Burch
Interim Conference Minister
Suggested Links: