eNewsletter Sign-up
---
Donate
We are now able to take online donations. We truly appreciate any donation that you can offer to assist our church and ministries.
---
Case Statements
Please find links to the
Level 1 (basic statement)
and
Level 2 (more detail)
Case Statements for our Caring for Churches, Caring for Clergy Campaign. For more information about this effort, please contact
david@pennwest.org
or
office@pennwest.org
.
UCC Disaster Ministries NewsFeed
View the UCC Disaster Ministries news feed
Facebook

---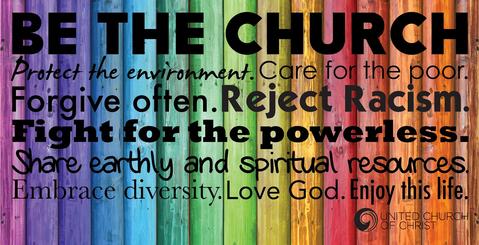 ---
Twitter
Tweets by @pwcucc

A Message from Our Conference Minister:
On Monday, March 16, I released the video (above). During this time of the coronavirus crisis, I am strongly urging the cancellation of public worship/gatherings and the implementation of alternative means of communication/connection until further notice. I am also advising that we closely monitor and follow CDC recommendations during this time. I understand that we are facing an uncertain and moving timeline on this, so we must strive to respond as faithfully and nimbly as we can. We are rooted and inspired by our Gospel mandate to love God and neighbor, and our actions are directed toward helping the most vulnerable among us.

Here is a link that our United Church of Christ Justice & Local Church Ministries office has provided for us with thoughts on livestreaming services/connecting with church members. More thoughts from our Conference Disaster Ministry coordinator, the Rev. Ryan Lucas, may be found here. The United Church of Christ is also curating resources on the coronavirus pandemic, which may be found here.

Ongoing, creative ministry in this time is particularly important since hospitals and nursing homes are prohibiting visitors, and pastoral needs with church members are sharply increasing amid the crisis. Please know that all of you are in my prayers, and let's plan to keep in touch with one another during this moment of challenge and opportunity in our world.
Annual Gathering & Meeting and General Synod
Thanks to everyone who helped to make our 2019 Penn West Conference Annual Gathering & Meeting such an amazing one to remember! Due to the COVID-19 pandemic, the in-person gathering and meeting that we had planned for June 12-13, 2020, at California University of Pennsylvania, will not be happening. Instead, please look for information about an online/virtual meeting that we will plan to have at some point during that time, at which we will conduct basic business of the Conference. General Synod 33, as of this time, is still scheduled to be held from July 16-20, 2021 in Kansas City MO
---
Pastoral Ethics Program, 2020
Our Pastoral Ethics Program in 2020 will focus on 'Technology and Boundaries.' We are blessed to welcome the Rev. Dr. Deirdre Hainsworth as our presenter. This program will be open to both Authorized Ministers and lay persons and is a requirement for Authorized Ministers under the 2017 Pastoral Ethics Resolution (http://www.pennwest.org/content/pastoral-ethics.html) approved by our Associations. In 2020, all three of these events are moving from in-person gatherings to Zoom meetings. If there ever was a time when an event on technology would be relevant to us, it seems like this is the time! You may choose to attend on any one of the following three dates: April 18, May 5, and June 11. The events will begin on all three dates at 10 AM, but they will end at 2:30 PM (instead of 3:30 PM, as had previously been announced). From 12:00-12:30 PM, we will have a "working lunch," which will allow time for us to eat on our own and ask any questions of our presenter, the Rev. Deirdre King Hainsworth. Some Associations may choose to have some voluntary follow-up discussion sessions after these events; please be on the lookout for these, too.
If you register for the event, you will receive Zoom information about it. If you want to download, print, and mail the registration form and the $50.00 check, please visit here (ignoring the final option about staying at Cal U): PDF HERE. If you want to register and pay online, online registration may be completed here. If you've not used Zoom before, you will want to download the program (www.zoom.us) onto your video-camera equipped computer or download the app onto your smartphone. When you click on the highlighted link we will send you at the time of the meeting, it should bring you into it. You may also dial in by phone, if you'd like. You will be provided with a number to call and a Meeting ID to key in when prompted, which should bring you into the meeting. Please also note that there is an invitation to contact me if the registration fee of $50 is a hardship for you.
Our Conference Committee on Ministry is also requiring that all Authorized Ministers, as part of the Pastoral Ethics training, complete the Informational Review form and return it to us at the Conference office (office@pennwest.org). When we see that you have attended one of the training events (we will have someone taking attendance for those who attend by computer or phone) and receive your Informational Review form, we will send you a certificate of completion for the training for the year. Ordained Ministers with Exempt Standing are not required to attend the training event, but if they are able, we still ask that they complete the Informational Review form and return it to us. Laypeople are highly encouraged to come and participate in this year's event, as well. We hope to see you there!
---
Philippines Trip 2020
The ambassador trip that we had scheduled for May 2020 has been cancelled due to the coronavirus pandemic. We are hoping that we will be able to reschedule it for next year. We had planned to send ambassadors Ryan Lucas and Keith Grimm to visit our partners in the Northwest Luzon Conference of the United Church of Christ in the Philippines. While we are disappointed that we are not able to send our ambassadors, we rejoice at the fact that the generosity of people throughout the Conference has enabled us to send our partners a gift in the amount of $5,000.00 for disaster relief amid the present crisis.
We also ask that you would continue to remember to support our SHEEP Fund (Sustaining Hope for Educational Expenses in the Philippines) during this time. Gifts to the SHEEP Fund may be made electronically using the donate button on our homepage, and/or by sending a check to the Conference, with SHEEP Fund in the memo.
Finally, our Global Missions Team is also interested in learning more about other local church efforts to make a difference around the world. A survey is attached here in a fillable PDF form. Please complete it and return it to our office by May 8. Thank you for all the efforts you are doing to share God's love across the globe!
---
"God is Still Speaking"
Welcome to the PWC Website!
Welcome to the Penn West Conference website! On this site, you will find insights, resources, materials, and links that highlight the ministries of the United Church of Christ in the Penn West Conference. We're glad that you are visiting us!
Blessings!

Rev. David Ackerman
Conference Minister
Suggested Links: