eNewsletter Sign-up
---
Donate
We are now able to take online donations. We truly appreciate any donation that you can offer to assist our church and ministries.
---
Case Statements
Please find links to the
Level 1 (basic statement)
and
Level 2 (more detail)
Case Statements for our Caring for Churches, Caring for Clergy Campaign. For more information about this effort, please contact
david@pennwest.org
or
office@pennwest.org
.
UCC Disaster Ministries NewsFeed
View the UCC Disaster Ministries news feed
Facebook

---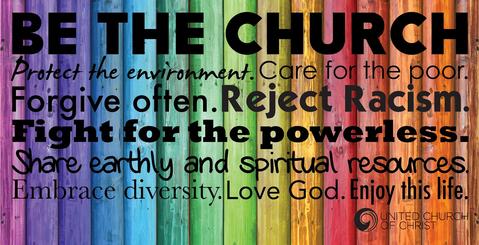 ---
Twitter
Tweets by @pwcucc

Pandemic Reflections Video
Pandemic Reflections
Here is a video that our Conference Minister, the Rev. David Ackerman, is providing for our Conference Annual Gathering & Meeting on June 12, 2021. In this video, Rev. Ackerman urges people to be vaccinated and to follow the advice of the CDC, as well as PA and MD health officials, in ongoing efforts to keep people safe. He commends churches for the steps they have taken over the past year (plus) to mitigate the spread of the virus and to connect using technology. Moving forward, he urges common sense and care in our continued struggle against the virus and grace and compassion in our ongoing relationships with each other. As we continue to gather together via diverse means in the days ahead, he notes that parts of our world still suffer greatly, and he prays for healing and health for all.
---
Annual Gathering & Meeting
Our 59th Penn West Conference Annual Gathering & Meeting was held virtually on June 12, 2021. Our theme this year was "Imagining the Future," and our focus scripture was Jeremiah 29:1-14. We had an inspiring presentation (and Q & A) by our keynote speaker, the Rev. Dr. John C. Dorhauer, General Minister and President of the United Church of Christ. Members of our Somerset Association led our opening devotions, and members of the Clarion Association led our closing worship. Our featured Mission Partners were Christian Associates of Southwest Pennsylvania (www.casp.org) and St. Paul's Senior Living Community (https://www.stpauls1867.org/). Many, many thanks to all who helped to make this year's Annual Gathering & Meeting such an important and meaningful time. For those who were not able to attend, all presented items for vote were passed. We thank our outgoing Moderator Tom Croner, our Board of Directors, our worship leaders, our tech facilitator Dr. Deirdre Hainsworth, our Office Manager Diane Fox, our Annual Gathering & Meeting Planning Team members, and everyone who helped to make this meeting such a special time. Blessings to each of you!
---
General Synod 33
The Thirty-Third General Synod of the United Church of Christ was held virtually this year. The theme was "Rooted in Love" and the focus scriptures is Psalm 1:3a. Thanks to the Penn West delegation and to all who participated in this year's Synod. And thanks to all who kept the work of our General Synod in your prayers.
---
Old Testament Faculty Position: Penn West Academy for Ministry
The Penn West Academy is seeking an instructor in Old Testament. Duties include teaching four times a year, curriculum planning, advising students, and working with colleagues on the Academy faculty. Instructors report to the Dean and to the Penn West Conference Committee on Ministry. Qualified candidates should have a proven track record of teaching, be well organized, and be a person of faith. A position description is available here. If you are interested in applying, an application (here) and a current resume should be emailed to the Rev. Joseph Hedden, Dean of the Penn West Academy for Ministry at pastorjoseph@windstream.net by Monday, August 16. Thank you!
---
Survey on Disabilities Awareness
Our Justice & Witness Team is taking a survey on how our Local Churches are responding in a spirit of hospitality to people with disabilities. Please complete the survey, which is in a fillable PDF, and return it to our office (either at office@pennwest.org or by mailing it to us at 312 S. Maple Ave., Suite PWC, Greensburg PA 15601) by May 31. The survey may be found here.
---
Global Missions Partnership Sunday
On Sunday, September 19, our Global Missions Team is inviting the churches in our Conference to support our SHEEP (Sustaining Hope for Educational Expenses) Fund. We are inviting churches across the Conference to contribute to this important fund established by Bishop Sambat to support educational expenses for children and for adults preparing for authorized ministry in the Northwest Luzon Conference of the United Church of Christ in the Philippines. More details about this Sunday will be provided soon. Please keep your eye open for promotional materials and save the date!
---
Prayers for our Partners in the Philippines
The ambassador trip that we had scheduled for May 2020 was cancelled due to the coronavirus pandemic. We hope to reschedule it for some future date. Meanwhile, we ask that you would continue to remember to support our SHEEP Fund (Sustaining Hope for Educational Expenses in the Philippines) during this time. Gifts to the SHEEP Fund may be made electronically using the donate button on our homepage, and/or by sending a check to the Conference, with SHEEP Fund in the memo. Thank you for all the efforts you are doing to share God's love across the globe!
---
"God is Still Speaking"
Welcome to the PWC Website!
Welcome to the Penn West Conference website! On this site, you will find insights, resources, materials, and links that highlight the ministries of the United Church of Christ in the Penn West Conference. We're glad that you are visiting us!
Blessings!

Rev. David Ackerman
Conference Minister
Suggested Links: