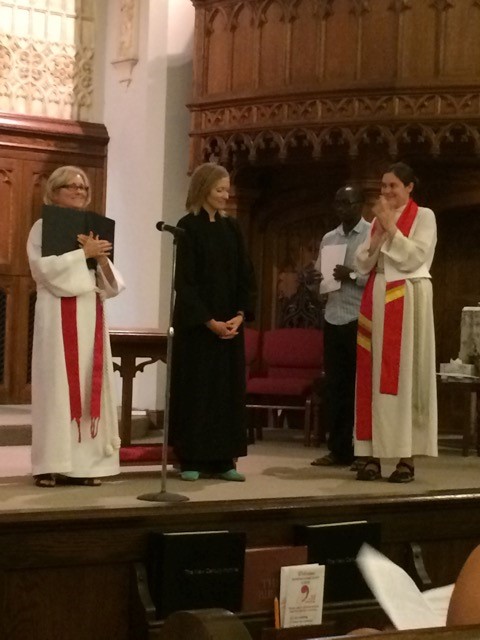 At the ordination of the Rev. Tara Wiederstein at Smithfield United Church of Christ in Pittsburgh
Penn West Conference Youth Mixer
The Penn West Conference is sponsoring a Youth Mixer on Sunday, November 1, from 3-5 PM at First Reformed United Church of Christ in Greensburg. For a bulletin insert with more information on the event, click here.
Pastors' Retreat September 29-30
All Authorized Ministers and Members in Discernment in the Penn West Conference are invited to attend our annual Penn West Conference Pastors' Retreat on Tuesday, September 29, and Wednesday, September 30. The retreat will be held at St. Emma's Monastery, 1001 Harvey Avenue, Greensburg PA. It begins at noon on the 29th and ends after lunch (around 1 PM) on the 30th. Our featured presenter is the Rev. Gail Irwin, author of the book "Toward the Better Country." Our presenter at this past Conference Annual Meeting, the Rev. David Schoen, wrote the foreword to Rev. Irwin's book (she will have a limited number of copies of it for sale if you are interested)! Rev. Irwin will be focusing on the story of Paul's shipwreck in Acts 27 as a model of how we might address the subjects of death and resurrection in our churches. For a copy of the brochure/registration form, please click here. The deadline to register is September 21.
---
The United Church of Christ
National Youth Event 2016
BELIEVE!
The countdown is on, we are 1 year away from the 2016 NYE in Walt Disney World Florida! July 26th-30th at the Coronado Springs Resort. Click here for the brochure
---
2015 Women's Retreat
Details are now available for our 2015 Women's Retreat - September 19 & 20 in Schellsburg, PA. Click here for the brochure and Click here for the bulletin insert
---
Pittsburgh Association Shrimp Boil
On Saturday, September 26, the Pittsburgh Association will sponsor a Shrimp Boil to benefit the ministries of the Back Bay Mission in Biloxi, Mississippi. It will be held at Trinity United Church of Christ, 3712 Saxonburg PA 15238. The cost is $20/ticket, and only 100 tickets will be sold! Meals will be served from 12:45 – 2:00 PM and a presentation on Back Bay Mission will be held from 2:15-3:00 PM. Meals will include shrimp, salad, bread, corn on the cob, dessert, and a beverage. Please contact Glady Pluskey for more details at 724-934-2992 or at this email address. Entertainment will be provided by the Steel Drum Ensemble of the Obama Academy in East Liberty.
---
New Bookstore
Our Partners in Faith Formation are excited to announce that we are in the process of establishing a new bookstore! We are hoping to have it open sometime later this year at First Reformed UCC, home of the new Penn West Conference Office. The store will be a year-round resource for our congregations and members. The bookstore will be a continuation and expansion of what our Partners in Faith Formation offer at our Conference Annual Meeting.
As an important note to this, for both the Annual Meeting bookstore and for the new bookstore, we are required to charge sales tax on transactions unless both of the following conditions are met: 1) A sales tax exemption form for the church or non-profit organization is presented AND 2) The transaction is paid with a church check or church credit/debit card. All items sold at the Partners in Faith Formation Bookstore are taxable except clothing items.
We look forward to being of service to you in the future!
---
"God is Still Speaking"
Welcome to the PWC Website!
The Penn West Conference website is a platform for sharing the mutual ministries and missions (that our churches and members carry forward) of God. Members and visitors will find insights and resources, documents and materials, our resource center and catalog, Ministry Teams, links to local PWC church websites, and more. We are linked to the national site as well as other important ministry sites. As we move forward, we will have Annual Meeting information and registration online.

Combined with the periodic PWC eNewsletter (for current information and updates), churches and members will have greater access than ever before. Moving to electronic media is a challenge for the reader and for the originator. We will learn together how we can become collaborators in God's Ministry and in God's Message. Join in this by sending in articles about your church life and all the emails of members in your church.
Blessings!

Rev. David Ackerman
Conference Minister
Suggested Links: