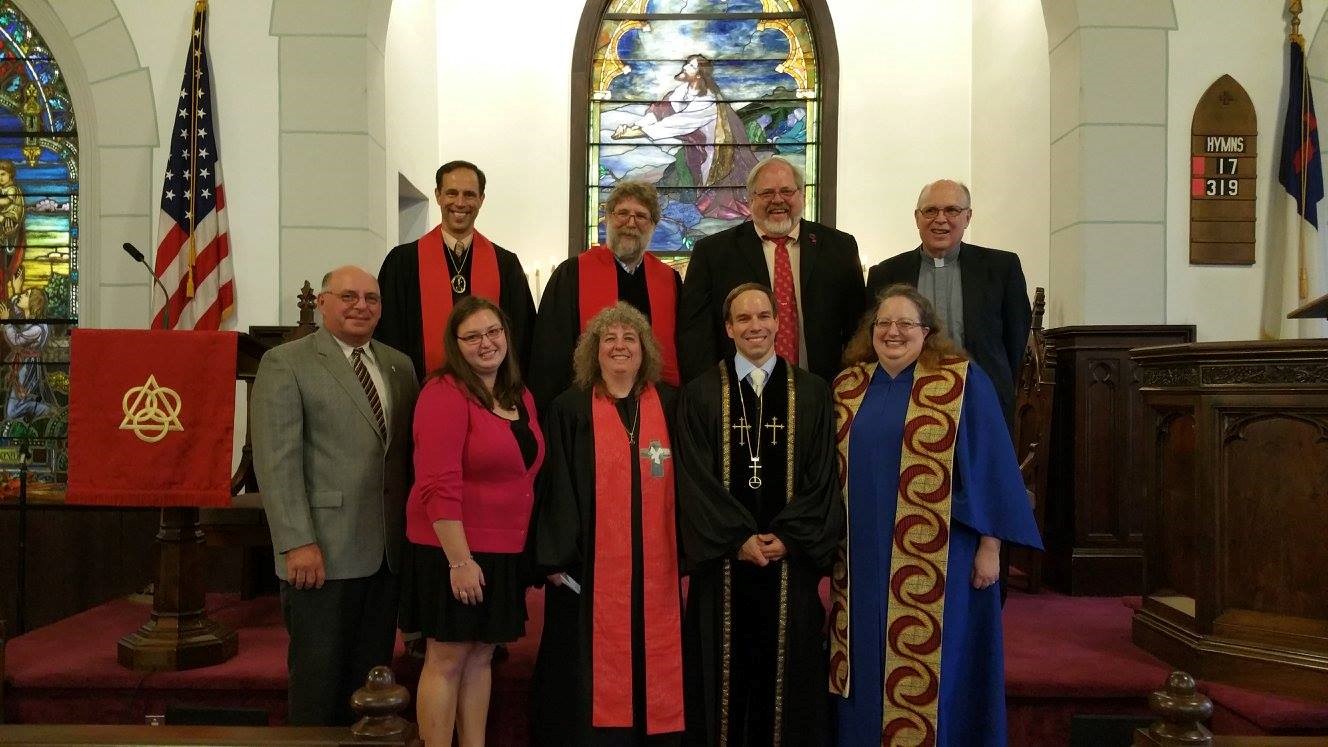 At Brady Plummer's Installation at St. John's Evangelical & Reformed United Church of Christ in Bedford
"Put Down the Ducky"
The Penn West Conference Partners in Faith Formation are hosting a retreat at Living Waters Camp & Conference Center on April 8-9, 2016. The theme of the retreat is "Put Down the Ducky", and our featured presenter is the Rev. Ryan Henderson, Associate Conference Minister in the New York Conference of the United Church of Christ. For more details about the retreat, please click here.
California, Here We Come!
The Mama's and the Papa's once sang, "California dreamin' is becoming a reality." That reality is coming true for Penn West Conference! We're going to California – Pennsylvania, that is. The 54th Annual Meeting of the Penn West Conference is scheduled to be held at California University of Pennsylvania from June 10-11, 2016. Mark your calendars and bring your surfboards! (Actually, leave your surfboards; the waves aren't very high on the Mon.) Our Annual Meeting Planning Team is still working on our presenter and theme, but we look forward to seeing you at our new venue in June of 2016!
Ambassadors from the Philippines
Our Global Missions Team is hoping to bring some ambassadors from the Philippines to our Conference Annual Meeting next year. Please look for more announcements soon about details on this and about fundraising efforts to help make this possible.
Please Spread the News about our e-Newsletter
Our printed newsletter in November will be the last one we will be sending. Our future newsletters will all be e-newsletters. If you do not have email, please let our office know and we will mail you the newsletters. Please spread the word about the e-newsletter so more people can keep in touch with us better, and so we can save some hours and trees!
---
The United Church of Christ
National Youth Event 2016
BELIEVE!
The countdown is on, we are 1 year away from the 2016 NYE in Walt Disney World Florida! July 26th-30th at the Coronado Springs Resort. Click here for the brochure
---
New Bookstore
Our Partners in Faith Formation are excited to announce that we are in the process of establishing a new bookstore! We are hoping to have it open sometime later this year at First Reformed UCC, home of the new Penn West Conference Office. The store will be a year-round resource for our congregations and members. The bookstore will be a continuation and expansion of what our Partners in Faith Formation offer at our Conference Annual Meeting.
As an important note to this, for both the Annual Meeting bookstore and for the new bookstore, we are required to charge sales tax on transactions unless both of the following conditions are met: 1) A sales tax exemption form for the church or non-profit organization is presented AND 2) The transaction is paid with a church check or church credit/debit card. All items sold at the Partners in Faith Formation Bookstore are taxable except clothing items.
We look forward to being of service to you in the future!
---
Important National Youth Event Reminders!!
The conference has set a registration deadline of January 15th, 2016. At this time we will need to know which youth are planning to attend, payment for their registration ($549) and the names of chaperones and their registration payment ($549) as well. We acknowledge that this is an early deadline, however to coordinate a trip of this size to Disney World we need to prepare well in advance for travel. Once we know how many people will be attending, we can begin planning group travel arrangements.
If you have youth that would like to attend, but are unable to send a chaperone please contact me as soon as possible. We will be able to pair them up with other groups.
The success of this event is dependent of the support of our pastors local churches!
Please encourage your youth to attend.
PWC Registration Links: Youth

Chaperone

If you would like assistance or would like more information regarding NYE, please contact Valarie Poole, Associate for Youth Ministry, at 724-331-3460.
---
"God is Still Speaking"
Welcome to the PWC Website!
The Penn West Conference website is a platform for sharing the mutual ministries and missions (that our churches and members carry forward) of God. Members and visitors will find insights and resources, documents and materials, our resource center and catalog, Ministry Teams, links to local PWC church websites, and more. We are linked to the national site as well as other important ministry sites. As we move forward, we will have Annual Meeting information and registration online.

Combined with the periodic PWC eNewsletter (for current information and updates), churches and members will have greater access than ever before. Moving to electronic media is a challenge for the reader and for the originator. We will learn together how we can become collaborators in God's Ministry and in God's Message. Join in this by sending in articles about your church life and all the emails of members in your church.
Blessings!

Rev. David Ackerman
Conference Minister
Suggested Links: