Welcome to the
Penn West Conference
Where God is Still Speaking!
Becoming a Blessed Church – February 21-22, 2014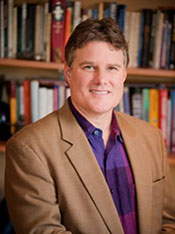 This exciting event led by Rev. Graham Standish is based on his best-selling book, Becoming a Blessed Church. It will explore why our churches have atrophied due to loss of spiritual vibrancy, and how to restore vibrancy to functional or dysfunctional churches by leading them to become "blessed churches."
The event will be held at Antiochian Village Conference Center (8 miles N. of Ligonier on SR 711).  Check-in is at 4 pm with supper at 5:30 pm.  It will conclude at 3 pm on Saturday.  Registration information has been mailed to churches and pastors.  Click here to download the registration information.  Click here to download the bulletin insert.
Gather a team of from your congregation and come!   Learn ways to help you discern God's purpose and the path God is calling your congregation to walk, find Christ in your midst, and become aware of the many ways the blessings of God's Spirit flow through your congregation.
Penn West Conference Pastor's Pre-Lenten Retreat, 2014
Wednesday, February 26 – Christ UCC, Latrobe
9:30 am – 3 pm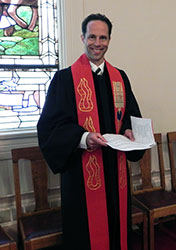 During Lent, Christians often focus on the theme of repentance.  This generally gets expressed in personal spiritual disciplines that are intended to bring about changes in individual lives.  But have we examined our churches?  Are there things that we need to change in order to do justice in our world today?   This year's leader will be the Rev. David Ackerman (Pastor, St. Paul's UCC, Trauger, PA).  Those present will look at ways that Christians have misused the Bible to perpetuate social injustice against different groups of people in our society.  If you're looking for some ideas for sermons or worship services in Lent, this retreat will hopefully give you a running start!  We will examine scriptures for the five Lenten Sundays in the Revised Common Lectionary as well as Beyond the Lectionary by Rev. David Ackerman.  Come, spend some time looking at some difficult scriptures and discerning how we can work together to do justice in our time!  Registration brochure can be downloaded by clicking here.
Why Do You Love the Penn West Conference?????
Check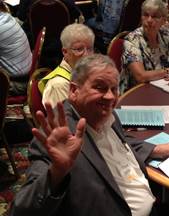 these video links of responses to that question which was asked at the 2013 Annual Meeting and other settings!  Also, check the Conference Profile at the bottom of the Homepage, and other pages in our website.  You will find exciting reasons for Penn West people to appreciate what it means to be connected in covenant together.
"In Flight"
Connecting with our Global Partners of the Northwest Luzon Conference
United Church of Christ in the Philippines
Be part of this exciting journey to the Philippines as we send two Penn West ambassadors to the May 2014 Annual Convention of the Northwest Luzon Conference!  Our ambassadors will learn about our global partners, share greetings from the Penn West Conference, and celebrate the bond we share as brothers and sisters in Christ.
We are seeking $10,000 to cover the expenses of our ambassadors – travel, lodging, etc.  You can help us do that!  Check the Global Mission Page (under the tab called Ministries) for more information and pictures of our global partners.  Or Click here to download the flyer with information.
Below is an indicator of what has been raised so far.  Check back for updates!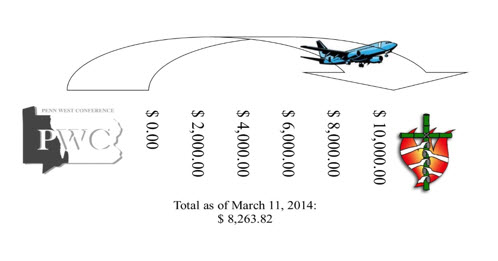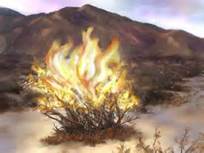 Seeking a Conference Minister
Is God calling you to serve as our new Conference Minister?
Are you looking for your burning bush? Penn West Conference could be your holy ground. We seek a passionate, energetic conference minister to partner with us in the mission and ministry of the conference.
If you feel called to lead this part of the Body of Christ as we grow, look at our Conference Profile below.   Then contact the UCC National Profile Office to have your current Ministerial Profile submitted.    Please send your ministerial profile, application form and references directly to the Rev. J. Matthew Deal, PWC Search Chair, at pwcsearch2013@gmail.com.  Applications are considered complete when all the information is received.  The deadline for completed applications is February 15, 2014.  Please contact Rev. Deal if you have further questions about the position and/or the process. 
Click here for a copy of our Conference Profile.
Also, click here for a printer friendly copy of the Application Form and here for the Position Description.
---
"God is Still Speaking"
Welcome to the PWC Website!
The Penn West Conference website is a platform for sharing the mutual ministries and missions (that our churches and members carry forward) of God. Members and visitors will find insights and resources, documents and materials, our resource center and catalog, Ministry Teams, links to local PWC church websites, and more. We are linked to the national site as well as other important ministry sites. As we move forward, we will have Annual Meeting information and registration online.

Combined with the periodic PWC eNewsletter (for current information and updates), churches and members will have greater access than ever before. Moving to electronic media is a challenge for the reader and for the originator. We will learn together how we can become collaborators in God's Ministry and in God's Message. Join in this by sending in articles about your church life and all the emails of members in your church.
Blessings!

Rev. Char Burch
Interim Conference Minister
Suggested Links: