UCC Disaster Ministries NewsFeed
View the UCC Disaster Ministries news feed
Facebook

---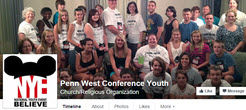 ---
Twitter
Tweets by @pwcucc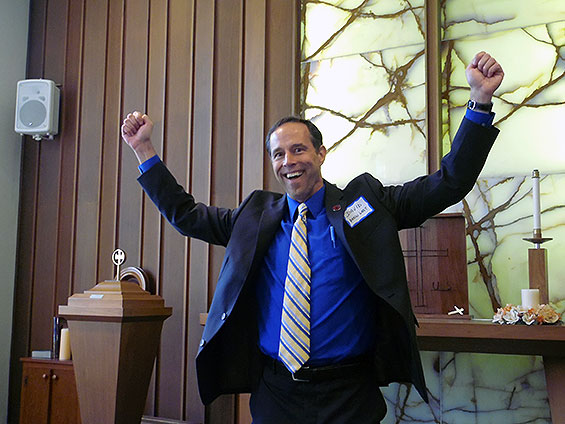 This is how David feels about the Penn West Conference giving away over $30,000.00 to our churches!
Mission Grants
On All Saints' Day this year, we rejoiced as 19 different churches in the Penn West Conference received over $30,000.00 worth of grant monies for various projects in their ministries! Grants for "Reaching Out" were distributed from our Corman Fund and our Neighbors in Need Fund. Grants for "Strengthening the Church" were distributed from our Strengthen the Church Fund. And grants for "Operational Support" were distributed from our Kermit Thomas Bequest Fund. For details about these awards and photos from the November 1 celebration, please visit our Recent Grant Awards page (under "Mission Grants," under the "Resources" tab). We are deeply grateful to our donors who have made these grants possible! The final reports for our 2016 grants are due by September 15, 2017. While some churches did not receive grants (or all the grant monies for which they applied), we encourage all of our churches to persevere and to apply again next year. If you need help with the application process itself, please do not hesitate to let us know.
---
Important Dates
There are a number of important upcoming dates that you will want to have on your calendar for 2016-2017. Here are some!
The All Association Spring Meeting this year will be themed: "What Does God Require of You?" It is a Justice and Witness themed meeting. We will gather at St. John's United Church of Christ in Larimer (Westmoreland Association) on Saturday, March 18, 2017. More details will be out later. Save the date!
The Penn West Conference Annual Gathering and Meeting will be held on June 9-10, 2017, at California University of Pennsylvania. More details will be out later. Save the dates!
The Thirty-First General Synod of the United Church of Christ will be held from June 30 – July 4, 2017 in Baltimore, Maryland. Save the dates!
Bookstore
Our Partners in Faith Formation are pleased to host our Penn West Conference Bookstore at First Reformed United Church of Christ, 312 South Maple Avenue, Greensburg PA. The store is a year-round resource for our congregations and members. It is a continuation and expansion of what our Partners in Faith Formation offer at our Conference Annual Gathering & Meeting. We hope to be of service to you!
---
"God is Still Speaking"
Welcome to the PWC Website!
Welcome to the Penn West Conference website! On this site, you will find insights, resources, materials, and links that highlight the ministries of the United Church of Christ in the Penn West Conference. We're glad that you are visiting us!
Blessings!

Rev. David Ackerman
Conference Minister
Suggested Links: