eNewsletter Sign-up
---
Donate
We are now able to take online donations. We truly appreciate any donation that you can offer to assist our church and ministries.
---
Case Statements
Please find links to the
Level 1 (basic statement)
and
Level 2 (more detail)
Case Statements for our Caring for Churches, Caring for Clergy Campaign. For more information about this effort, please contact
david@pennwest.org
or
office@pennwest.org
.
UCC Disaster Ministries NewsFeed
View the UCC Disaster Ministries news feed
Facebook

---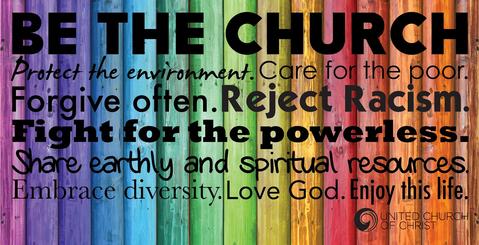 ---
Twitter
Tweets by @pwcucc

Red, Yellow, and Green: Another Update from Our Conference Minister
Here is my third homepage video installment with my most recent thoughts and advice to churches on responding to the ongoing challenges of the COVID-19 pandemic. The first video was released on March 16, and the second on May 3. The one above was released on May 25, just after Gov. Wolf's announcement that some northwestern PA counties are scheduled to move into the green phase on May 29. In the video, I share my thoughts on how I am interpreting the PA phases and MD stages for our communal life together. Using PA terminology, I view red as a time to find alternative and creative ways of connecting with each other apart from in-person meetings; yellow as a time not as much for reopening (the plan allows for gatherings of less than 25 people, but I think this is difficult in terms of extravagant hospitality) as for planning and preparing for the green phase; and green as a time when churches may reopen following safety protocols recommended by the best wisdom in the links below, along with CDC and PA & MD health department guidance. I hope that as changes develop, this may serve as a guide to my thinking on this. Here are some links that I have found to be helpful:
I know that this has been a challenging time in so many ways, and I am very thankful for the leadership that so many of our pastors and churches have shown during it. While churches are free to receive or reject my thoughts as they see fit, my prayer is that you will know that they are offered in a spirit of love and care for the people of our Conference, as together, we seek to be faithful to God's call in our lives and ministries. Grace and peace be with all of you.
---
Abolishing Medical Debt
The Penn West Conference is going to engage in a campaign from February 1, 2021, through April 30, 2021, to help abolish medical debt for people in the area of the Conference! Imagine feeling the stress and anxiety of wondering how you are going to pay your medical bills and one day receiving a card saying, "You may not know us and you may never have been to one of our churches, but we are the United Church of Christ in the Penn West Conference, and we are writing to tell you that your medical debt has been forgiven." This kind of thing has been going on in various areas across the country, as the United Church of Christ has partnered with RIP to help to eliminate medical debt in Chicago, St. Louis and northern California. In order to begin to do this work with RIP, we need to raise a minimum of $15,000.00 toward this effort. If each local church in the Conference contributed $250.00, we would exceed that minimum. And any money that is over the minimum will help to relieve more debt. Please talk with your church leadership bodies about this now so that you can plan accordingly to embrace this opportunity to participate in this effort this spring. More details about this effort may be found here.
---
Application to lead a Workshop at the 2021 Annual Meeting
We are excited about workshops for next year's Annual Meeting! We may be doing these in person or virtually or a hybrid, depending on how conditions are at the time of next year's meeting. We are looking for leaders who are willing to lead workshops in a variety of different categories, including:


Church Financial information/Stewardship
Youth ministries
Technology information
Justice and Witness
Biblical Studies/Worship
Mission
Church resources/Leadership

Our application to lead a workshop is available here in a fillable PDF. Please complete it and return it to the Conference Office by Friday, January 8, 2021. Thank you!
---
Annual Meeting
Our 58th Penn West Conference Annual Meeting was held by Zoom on June 13, 2020. We met by Zoom because of the COVID-19 pandemic, and we learned a lot from the experience. We were truly blessed to have the Rev. Dr. Karen Georgia Thompson as our keynote speaker. We also heard messages from Hoffman Homes for Youth (www.hoffmanhomes.com) and the Pennsylvania Council of Churches (www.pachurches.org). We received special offerings for Hoffman Homes and for our own SHEEP (Sustaining Hope for Educational Expenses in the Philippines) Fund, and if you'd like to contribute to either of these offerings, you may do so using the donate button on this page. The Westmoreland Association led us in an opening devotion and the Juniata Association led us in closing worship with Holy Communion. Additionally, members of the Juniata Association wrote, produced, and recorded an original musical piece for the meeting: click here. And we also had a Workshop Day back on June 6, during which leaders throughout the Conference presented workshops via Zoom on a variety of topics. If you haven't already done so, please fill out an evaluation form to share your thoughts on the meeting with our planning team: click here. We want to sincerely THANK everyone who contributed to making this year's meeting such a meaningful and special time, especially considering the extraordinary circumstances during which it was occurring. Thank you all!
---
General Synod 33
The Thirty-Third General Synod of the United Church of Christ is scheduled for July 16-20, 2021 in Kansas City MO. It is scheduled to be held electronically. More details about General Synod 33 will be made available at a later date.
---
Philippines Trip 2020
The ambassador trip that we had scheduled for May 2020 has been cancelled due to the coronavirus pandemic. We are hoping that we will be able to reschedule it for next year. We had planned to send ambassadors Ryan Lucas and Keith Grimm to visit our partners in the Northwest Luzon Conference of the United Church of Christ in the Philippines. While we are disappointed that we are not able to send our ambassadors, we rejoice at the fact that the generosity of people throughout the Conference has enabled us to send our partners a gift in the amount of $5,000.00 for disaster relief amid the present crisis.
We also ask that you would continue to remember to support our SHEEP Fund (Sustaining Hope for Educational Expenses in the Philippines) during this time. Gifts to the SHEEP Fund may be made electronically using the donate button on our homepage, and/or by sending a check to the Conference, with SHEEP Fund in the memo. Thank you for all the efforts you are doing to share God's love across the globe!
---
"God is Still Speaking"
Welcome to the PWC Website!
Welcome to the Penn West Conference website! On this site, you will find insights, resources, materials, and links that highlight the ministries of the United Church of Christ in the Penn West Conference. We're glad that you are visiting us!
Blessings!

Rev. David Ackerman
Conference Minister
Suggested Links: