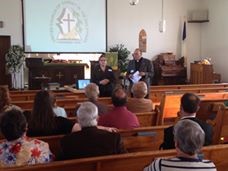 Juniata Association Fall Meeting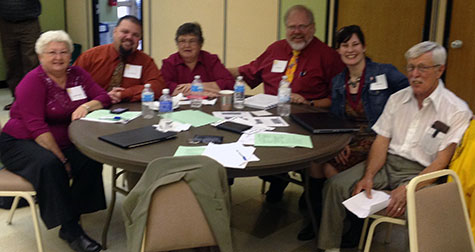 At the Lancaster Church & Ministry Consultation


General Synod 30 Plans Are Under Way
The thirtieth General Synod of the United Church of Christ will be held June 26 through 30, 2015, in Cleveland OH.  Our delegates have recently been contacted with registration details.  We are excited about having General Synod so near to us!
In addition, United Church of Christ is searching for candidates for our next General Minister and President.  To view a United Church of Christ Board video that provides details about the search, click on http://youtu.be/f14gvrCAybs. 
Choir at Conference Minister's Installation Service
At the Rev. David Ackerman's installation service on Sunday, November 16, at First Reformed UCC in Greensburg, there will be a Conference choir, which will rehearse its anthem at 3 PM.  You are invited to join the choir!  Come for the rehearsal and then the service at 4 PM.  First Reformed UCC is located at 31 South Maple Ave., Greensburg PA 15601.  At the service, clergy are invited to robe and wear red stoles.  A dinner reception will follow in the social hall.  To RSVP for the dinner, please contact Diane Fox by November 2 at 724-834-0344 or at office@pennwest.org or on the Conference Facebook page. 
Jesus Is the Answer, but What is the Question?
This is the theme of the Fall Youth Rally at Living Waters this year.  It will be held on November 7-9 and is for youth in grades 6-12.  The cost is $100 per person.  Spend the weekend making new friends and exploring various stories, including the rich man and Lazarus, the sending of the seventy, the healing of the Gerasene demoniac, the road to Emmaus, and Jesus' appearance to Paul.  Questions?  Go to www.livingwaters.org for details.
National Youth Event
The National Youth Event of the United Church of Christ will be held July 26-29, 2016.  While 2016 sounds like a long way off, it will be here before we know it.  This event promises to be huge!  It will be at Disneyworld in Orlando, Florida.  So it's not too early to put the dates on your calendars.  In addition, people throughout the Conference are encouraged to start thinking about options for fundraising, transportation, etc.  We look forward to more conversations about this amazing opportunity in the days ahead.
New Beginnings
A look at our 2014 UCC Statistical Profile (http://uccfiles.com/pdf/2014-UCC-Statistical-Profile.pdf) reveals that our church is faced with new challenges in these times.  A new assessment resource that is available to our churches is called New Beginnings.  The program does not force change on a congregation, but it provides the information, the process, and the training to help members and leaders come together to make wise and realistic decisions about the future.  For more information, please view the site at www.ucc.org/new-beginnings and let the Conference Office know if your church is interested in it.    
Hold the Dates!
· Congregational Vitality Event with the Rev. Graham Standish, sponsored by our Transformation and Renewal Team, February 6-7, 2015, at Antiochian Village in Bolivar. 
· "Beyond Sunday Morning", All-Association Gathering on emergency preparedness for local churches, on Saturday, April 18, at St. John's UCC in Evans City. 
· Penn West Conference Annual Meeting May 29-30 at the University of Pittsburgh at Johnstown.
· United Church of Christ General Synod June 26-30 in Cleveland.
---
"God is Still Speaking"
Welcome to the PWC Website!
The Penn West Conference website is a platform for sharing the mutual ministries and missions (that our churches and members carry forward) of God. Members and visitors will find insights and resources, documents and materials, our resource center and catalog, Ministry Teams, links to local PWC church websites, and more. We are linked to the national site as well as other important ministry sites. As we move forward, we will have Annual Meeting information and registration online.

Combined with the periodic PWC eNewsletter (for current information and updates), churches and members will have greater access than ever before. Moving to electronic media is a challenge for the reader and for the originator. We will learn together how we can become collaborators in God's Ministry and in God's Message. Join in this by sending in articles about your church life and all the emails of members in your church.
Blessings!

Rev. David Ackerman
Conference Minister
Suggested Links: